This could be the 5th time we have played Kempton… and as always, it is a favourite of the band.  The staff are great, and the crowd is simply there to have a good time.  And this year didn't disappoint…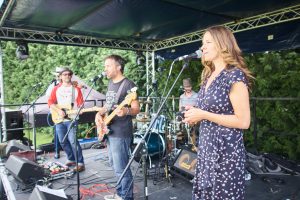 It's an early arrival for the band – 1pm – so as to soundcheck before the horses arrive.  After that, we took the chance to grab some more promo pictures.  We had top photographer Jason Leaman documenting the event for us – and we were a full 6 piece band, with Chris Haigh on mandolin / fiddle,  Jason Dickenson on fiddle, and our female vocalist Holly.  Our pre-gig meal was in the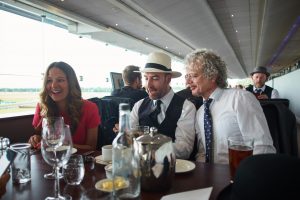 Panoramic Restaurant, where we hooked up with our video crew, Jeff, Darren and Andy.  We often take the chance to film the Kempton shows, as it give prospective clients a chance to see the band in action… as public appearances are rare for Rollercoaster.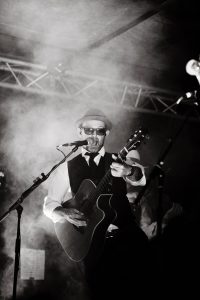 Last race was a 8.45, so we took to the stage at 9pm.  It was a slightly shortened set, but we packed the songs in, playing a good mix of traditional Irish songs with some contemporary pop'n rock thrown in.  We had a special appearance along the front from a group of young Irish dancers… and later on, the crowd linked up to perform Conga round the paddock… ending up directly in front of the stage – where the party hit a new level.  It was a lovely vibe, with a very interactive audience who had no problem singing back to the stage.  Sadly, the last song came about all too soon… but it was a pleasure to play to such a great crowd, and it looked like they enjoyed it as much as we did!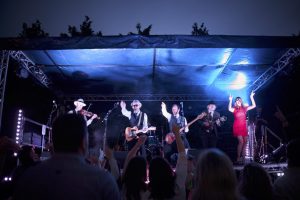 Hopefully we'll be seeing you all again – Happy Irish Night!
[phgallery type="flickr" user_id="8080573@N03″ photoset_id="72157670366019832″ ]
[phgallery type="flickr" user_id="8080573@N03″ photoset_id="72157668220251323″ ]
---