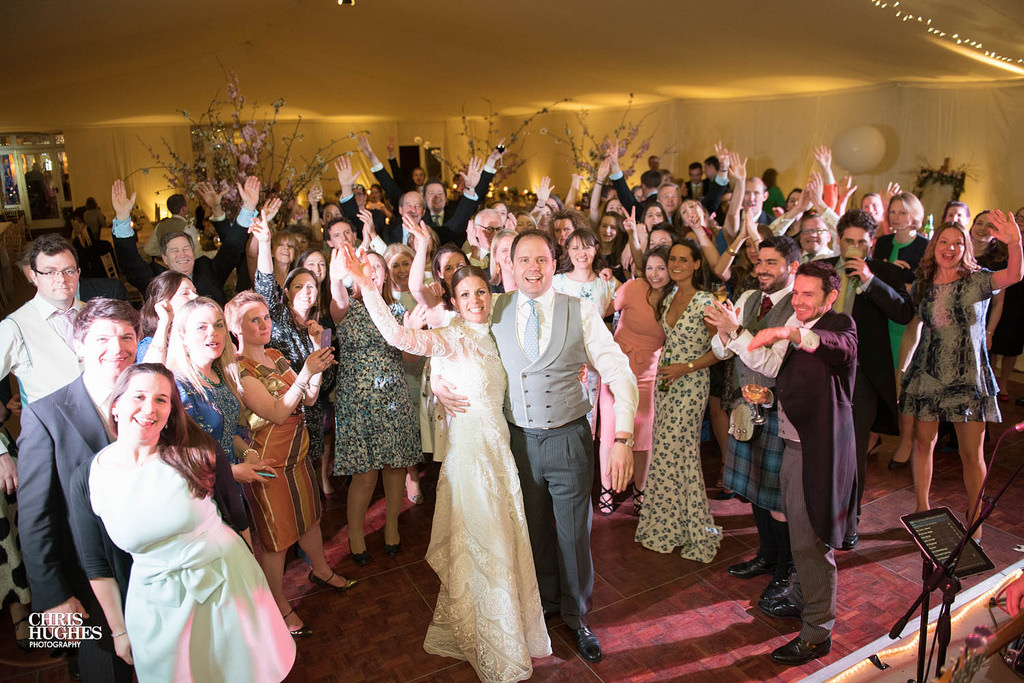 This wedding was set to be a good'n from the start.  We had seen a few of the faces from a previous wedding (Tom's sister's – Emily of Two Many Cooks caterers), which took place at the same venue back in November 2015.  As always, the marquee wedding is the best venue for a live band, as it is perfect for sound and layout for a great party.
The guests returned from the church at 4pm, and were entertained by the very talented Chris Haigh on fiddle.  As a side note, the wedding he had played previously, in the same role as 'solo-fiddle drinks reception performer', was that of Rupert Murdoch and Jerry Hall.  Once again, we only have the very finest musicians playing with Rollercoaster.
The catering was handled by the very wonderful Two Many Cooks, who as usual, were great to work along side.  After the meal and speeches, we hit the stage, playing the Sleeping At Last version of 500 Miles (which goes into the Proclaimers version).  Emma and Tom looked the perfect couple on the dance floor, and it was a pleasure to play this lovely version of a classic song for the first dance.  The crowd rocked, and we had a busy dance floor throughout.
The evening came to a close after a few encores, and we had a chance to chat to the guests – it transpired that it was a wedding of couples past, present and future (we had played 2 couples weddings in the past, 1 present, and were booked to play 2 in the future).  And there was certainly homely 'team vibe', considering the caterers had worked Holly's sisters wedding the week before, and Al and Holly's wedding 10 years previous.  And we will be playing Emma's brother's wedding in May!
Thats to all for looking after us – best of luck to Emma and Tom in the future… definitely see you all soon!
[phgallery type="flickr" user_id="8080573@N03″ photoset_id="72157664917603513″ ]
---