So this was a first for Rollercoaster.  Sure, as our original band, Redwood, and as individual musicians, we have toured outside the UK…
but as Rollercoaster, we have never left these shores.  The reason for this, is we are usually booked up with weddings etc. which are often booked 1 year in advance.  But as it happens, St Patricks 2017 was available (it's a premium date for this band), so we were booked in to play 2 nights in Doha, Qatar, at the Intercontinental Hotel!!  The hotel promoted the gig under the name 'Four Leaves And A Fiddle', as we hadn't gained too much of a following in deepest darkest Doha as Rollercoaster (it's early days yet though).  We would be taking top fiddle player Jake Walker with us, to fill in the fiddling gaps… it was gonna be good.
After 7 hour flights, we landed in Doha on the Thursday morning, were picked up from the airport and taken to the hotel.  We spent the rest of the day snoozing, eating, sun bathing, and eventually, setting up for the evening's show.  The hotel food was INCREDIBLE, and the staff were super friendly.. which set us up for a great gig.  The show was in a marquee on the beach, and the audience was great.  By 1.30am, we were pretty well exhausted, and enjoyed some well deserved post gig drinks!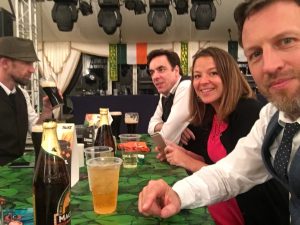 The next night, the show was in at the in house venue, the Paloma.  We used the in-house band's gear, and setup and sound checked on the Friday afternoon.  Once again, a great show – lovely crowds to play to, and wonderful staff to work with.  The sponsors, Sixt car rental, were there for both gigs, handing out promo sunglasses, and taking photos – and were super supportive throughout.
The whole experience was fantastic, and unforgettable – and now that we've broken the 'playing abroad' bubble, we'll be heading out for more shows… looking forward to that booking in the Maldives to come in 😉
---