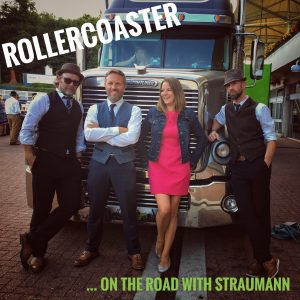 Having played in this band (and previous versions of it) for the past 30 years, I've grown accustomed to various elements on stage – the amps, the instruments, the speakers… and the mixing desk.  Some elements have changed, but for the most parts it has remained the same.  These days, it's band, playing songs from the past 60 years… what needs to change?
The most recent breakthrough came with In Ear Monitors (IEMs).  For me, this meant that I had the sound of the band, my voice, my bass etc. sent directly to a wireless belt pack on my person, and into headphones… small, moulded headphones (incredibly expensive as well, considering their size).  This meant the removal of feedback 'squealing' via the monitors (the huge speakers that you still see in front of musicians on stage).  It also meant, in theory, the possibility perfect tuning, as you can actually hear your vocals.  And you can turn other musicians down – and focus your headphone mix.  The other advantage, is that you can control the volume of the overall mix – meaning your ears AREN'T ringing the next day.  IEMs are great, and have made a HUGE difference to live gigging.  Of course, to get an independent mix for every musician on stage (considering we often play as a 7 piece band), is impossible… Which in small part, led to the next 'revolution' in sound for Rollercoaster – the new mixing desk!!!  Enter the Soundcraft Ui24R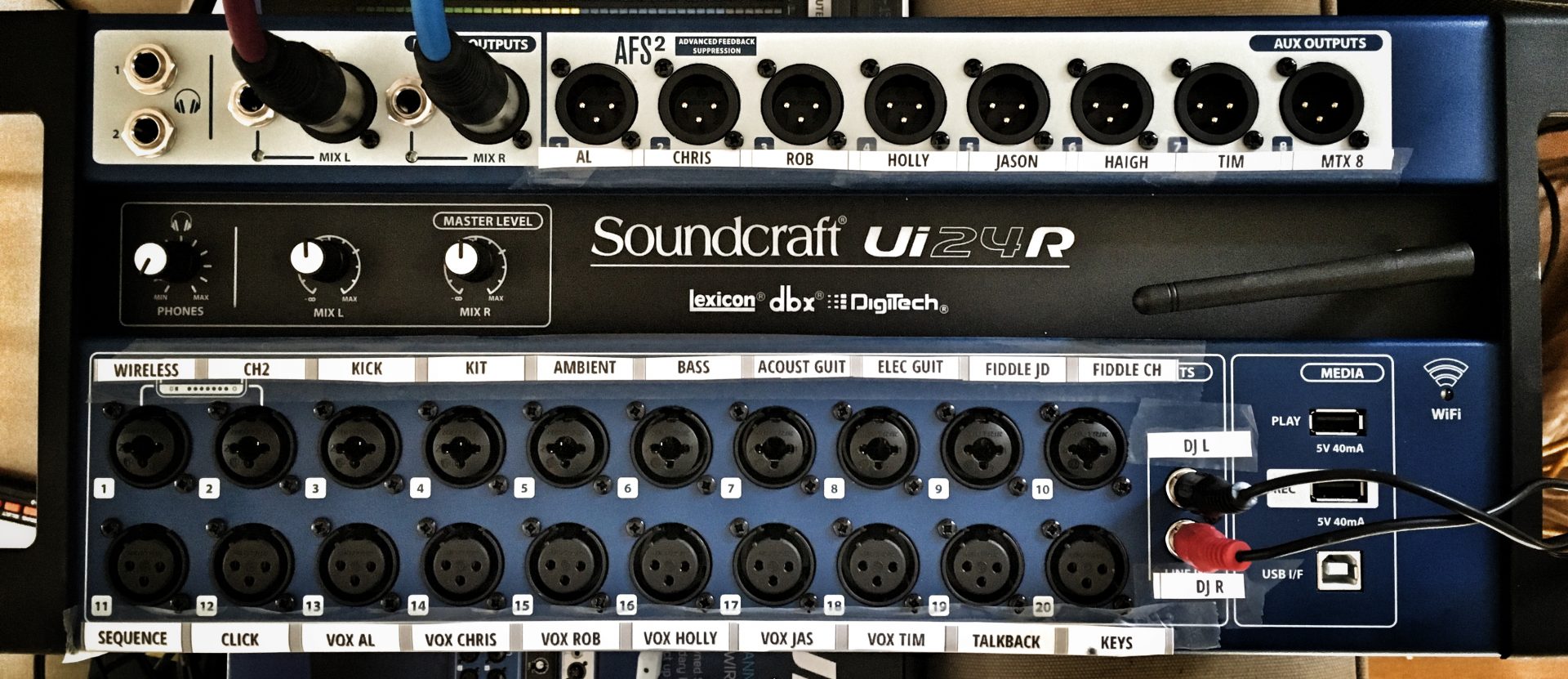 I stumbled across this bit of tech whilst sorting out my duo setup.  I'd invested in a new PA system – a very nice LD Maui 28 column array – and needed a simple mixing desk.  I tried an Allen Heath one, only to return it as there were no instrument mutes – essential for live work.  The upshot was, I came across the Ui24R… and instantly saw that it could do everything I needed – not just as a duo, but as a full 7 piece band.  It wouldn't just act as a mixing desk, but it would be a multitrack recorder – direct to USB – at the same time.  The actual cost of the Ui24R was less than our current mixing desk (Yamaha 24MGP24X) – and in theory, it could solve a lot of the gripes we all had with this current setup, so I took the gamble and bought one.
So what's so good about the Ui24R.  Ok, so the main points, for our band, are as follows:
8 aux outputs… which means fully controllable independent mixes for up to 8 musicians.
full mix recall – setup a mix and save it… next time you setup at a venue, it will have exactly the same gain levels, monitor feeds etc.
everyone can control their mix, wirelessly, via any device that runs an HTML 5 web browser.  Apple, Android etc.  All of this is through the units own wifi hotspot.  Plus you can wire in directly via ethernet, or HDMI+usb.
20 inputs – 10 of which are the dual xlr / quarter inch inputs.  2 phono inputs (for DJ input for instance).
A complete multitrack recording system to USB – yes, you can record 22 tracks of audio direct to a USB stick at a variety of quality levels… which can be dragged directly into a DAW (in my case Logic Pro) to be mixed later.
Plugins on EVERY TRACK – including compressors, gates, reverbs etc.
It's just bigger than a shoe box – and is super light.  It will fit into a 4U rack space.
Direct, wireless soundcheck mixing from front of house.  The guitarist out front hears what needs changing, and does it – immediately – without having to head over to the desk.
These are the main points – but to sum up, it's an incredibly powerful and versatile bit of kit… in theory.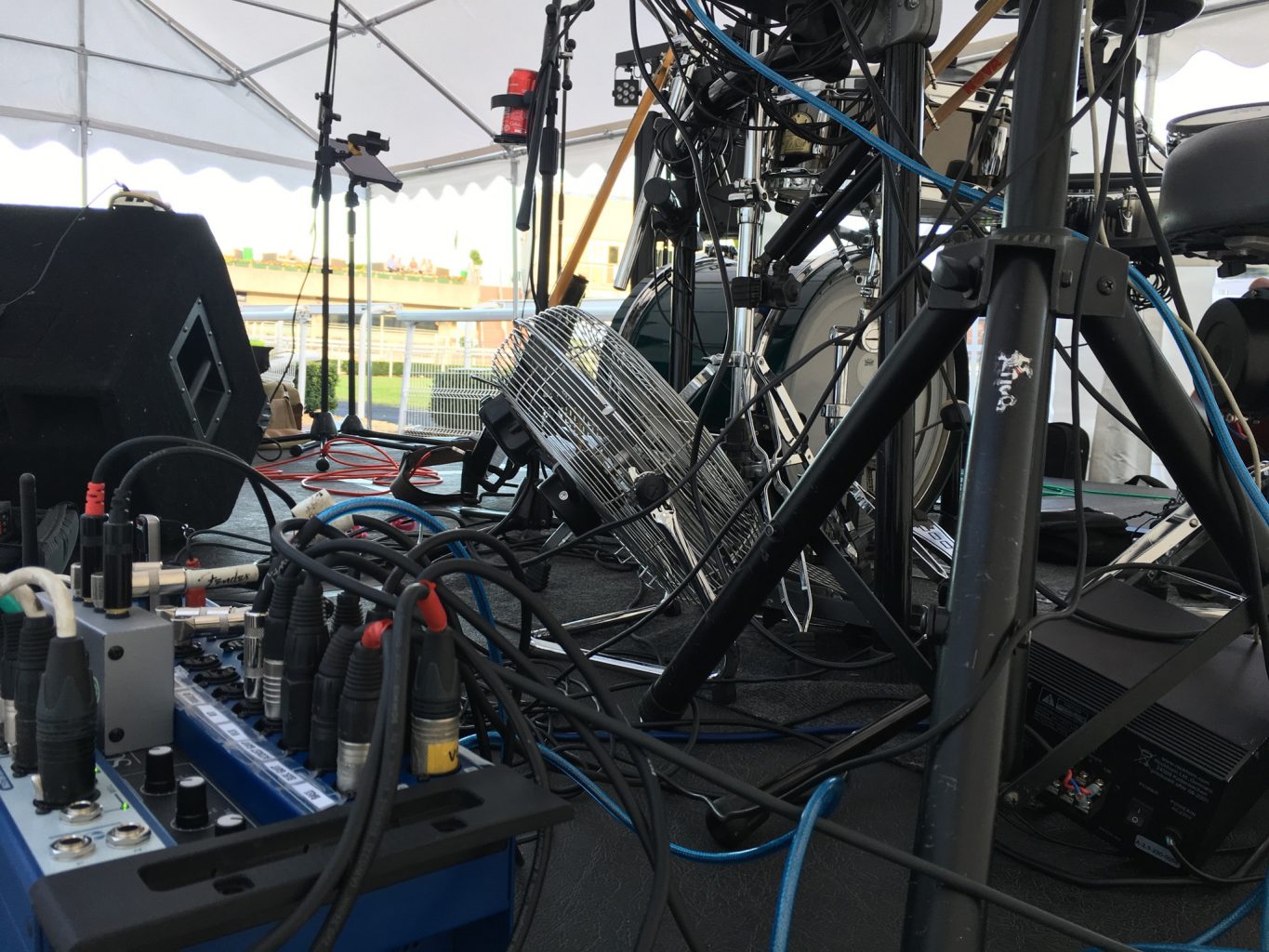 So out of the box, the unit wouldn't link up with it's wifi.  I fixed this by direct linking my laptop… then the hotspot worked.  I played around with it for a week, the the band came to try it out before a gig, which is where the 'in theory' broke down.  We added the instruments, and the unit started to emit digital distortion – it was a fault, and we couldn't use it for the gig.
So the unit wasn't working, and I contacted the Facebook group covering the Ui24R.  It's not official, but has constant input from the product manager, so it is effectively going straight to the top, and bypassing the 'underlings' within a large corporate group.  The product manager, Danny Olesh, supplied me with a  firmware update, in an attempt to fix the bug.  It didn't do this immediately, though after a day working with the unit, the glitch' seemed to disappear.  I'm still waiting of a replacement unit, but so far, the current one is working OK.
The first road test was at a local wedding.  We had a the five piece band – electric drums, bass, guitar, fiddle, plus 5 vocals… and a sequence with a click track.  With this setup, we used 5 auxiliary mixes – something that would not have been possible with the previous one.  As a first outing, the setup took longer than usual, but that is to be expected.  We had an old 2009 White MacBook connected directly to the ethernet port.  Wirelessly, we had a Samsung tablet, an iPhone, a iPad, and another MacBook connected.  Rob (guitarist) mixed from out front on his Samsung tablet, during soundcheck.  We had the old MacBook direct linked more as  a safety net.
The biggest difference on stage, is the ability to adjust your monitors directly.  I had my iPhone on my mic stand, so could easily, during songs, scroll across my aux, and push any levels up or down.  It was just so easy.  More reverb – just scroll across and push it up!  And I'm still learning the interface.  You have so many customisable views, that it is definitely possible to minimise scrolling, and have all the important things on one page (click, bass, vocals..)
It had no problem recording the full 2 hours of music on about 15Gb of USB stick space – though that was just around 12 channels of audio.  This is at the highest resolution 24bit .wav, so as good as it gets for mixing later.  And it is super easy to drag the files into Logic… and then it's down to the mixing.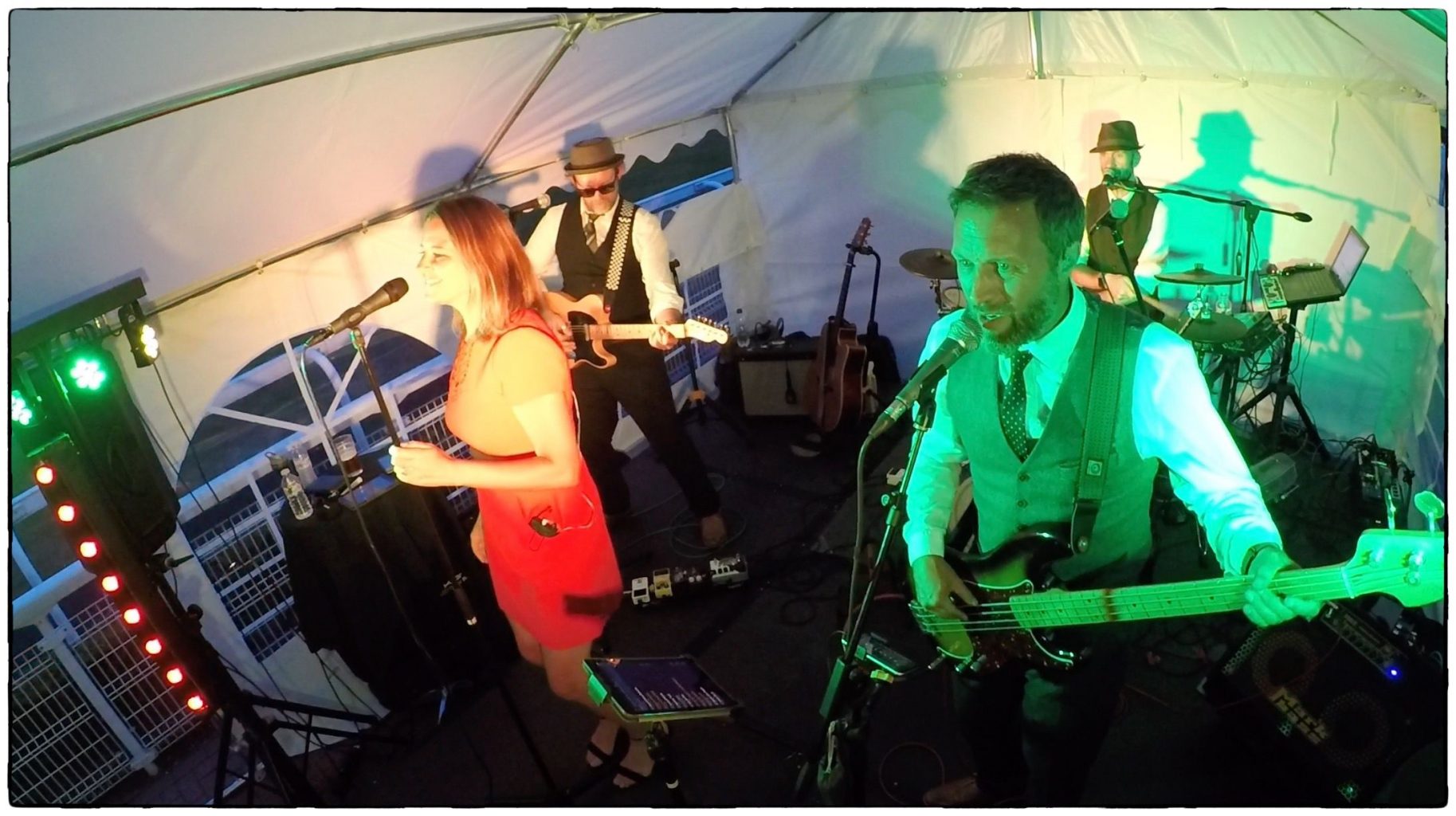 It's early days, and we've now done 2 gigs with the Ui24R, but it's definitely going well – and with the ability to fine tune and save a mix, it will definitely get better.
I'll update this post as we move deeper into the full shakedown of the Soundcraft Ui24R, but for now, it's given new life to the band, and opened the door to an even higher quality product – which can only be good for the folk standing the other side of the speakers!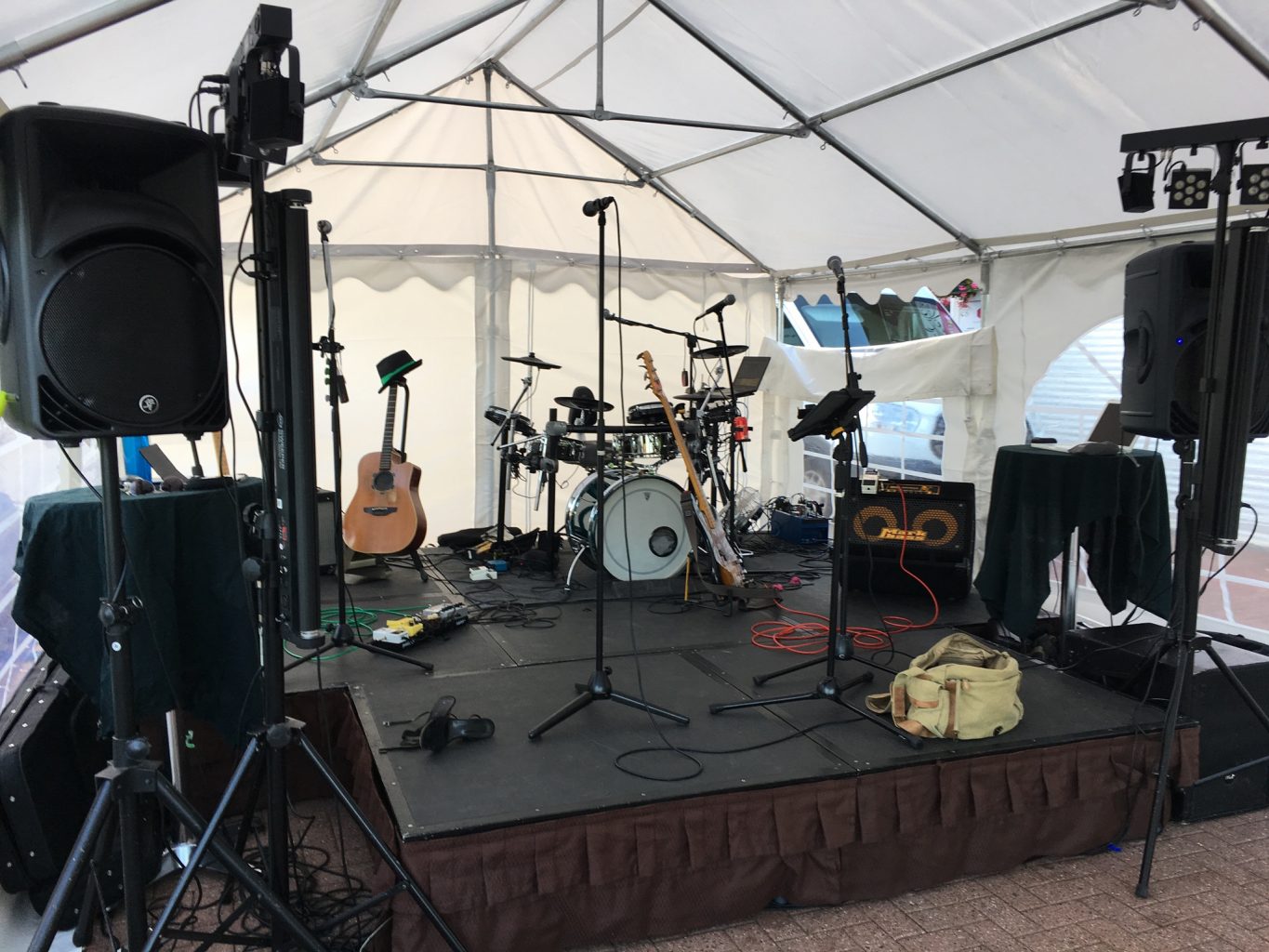 ---